Sippin' On Gin & iWatch Juice: My Mind On My Money . . .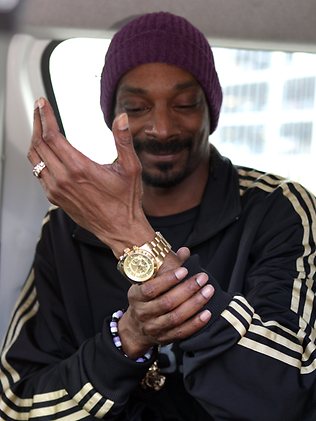 "I got gin but I ran outa juice...dang." (IMG: heraldsun.au)
If knowledge is power, then the iWatch from Apple (NASDAQ: AAPL) is weak on knowledge. The global giant is fumfering at the moment as a result of the excavation of information from deep within its own product page that the watch battery will last a positively abysmal three hours when used to talk on the phone. Listening to music will get you a rather thin six hours, and the use of the watch for bio-monitoring during workouts will get you seven hours.
These are pretty slender numbers.
The device, launched formally by Mr. Cook yesterday via the full nine yards of media hype and packed-house presentation, was proclaimed to last for a day (eighteen full hours) of use. But, it seems, if you're using the watch for anything but telling the time (in which case you could spend the iWatch minimum $350 base price on a watch-watch) that eighteen hour sum will prove elusive indeed. 
The idea that users will have to carry around the magnetic clip-on charger to refire their watches several times a day to extract the full utility out of its available features, this could be a barrier to the kind of sales that Apple typically enjoys for its mobile devices. With other watches out on the market featuring lower price tags, equally elegant design options and OS options that include iOS--and with battery lives that far outshine Apples brand new product--some folks in the market for smartwatches just might peel away from Cook's newest baby and look elsewhere.   
For example, HTC has announced their upcoming entry into the flooding product market of intelligent watches with a watch, code named "Petra" (cool town in Jordan): the watch is apparently going to feature HTC's own flexible screen technology, and will--it is said--last three days off of a single charge.
Sounds like an awful lot but it's not. It's rather middling, actually. Take the Pebble, the ubiquitous watch which can be purchased for iOS or Android, costs $99 to start and gets the user up to a week of battery life off of a single charge. The LG G-Watch (NYSE: LG), which sports a color screen and includes a heart rate monitor, gets the user two full days worth of use before having to succumb to the charger. The Pebble Time Steel, a higher end version of the famous Pebble (but still starting $50 cheaper than the iWatch), provides the user with ten days of continuous use before requiring a recharge. Other models: 
The Moto 360 (NYSE: MSI): 2 days of use. Samsung Gear 2: 2 days of use. Samsung (PINK:SSNLF) Gear Fit (w fitness tracker): 3 days of use. The Sony Smartwatch 3, a day of battery life. Read more on all mentioned models here.
So clearly Apple is behind the industrial curve when it comes to convenience here .  .  . and watches should--one hopes--bring to the user a heft dose of convenience, otherwise there's no point in not returning to simple smartphone and/or watch-watch: you want a smartwatch to skip the phone to take calls when, say jogging; able to put the phone and it's armband holster aside when running on the treadmill to monitor biometrics; ease for getting directions when the phone is too much of a diversion while driving, and on and on. 
Throw a constant worry about battery life when stepping outside of the safe bounds of simple time-telling and maybe checking email, and you've got a bit of a drag, here. This is a pointed issue, since users already are likely carrying around chargers for 1) their smartphone, and 2) their tablet. If the user is a serious businessperson, throw in another charger for 3) their laptop. As these watches use entirely different chargers than your tablet and smartphone, there is absolutely no interchangeability here. You will be hauling out the charger for the watch and nothing but the watch. 
For a watch that sports an "Edition" version that starts at $10,000 (don't choke on your coffee; you read correctly), people will likely think this through very carefully, and probably--this is my thought here--wait for round two, with a new improved battery. .  .  the same process of holding out for smartphone improvements when premiere editions don't make the cut for buyers. Consumers know that first editions of new product lines are often cumbersome in this exact way--and they know that manufacturers usually respond to complaints, and tweak the next edition of the device to quieten the displeased and unimpressed. 
Will you be buying a smartwatch this year? If so--tell me what you'll be buying. Will you be using the iWatch,
"Rollin down the street, smokin LiPo, sippin on charger juice .  .  .  "
Preston Clive
3/10/2015***