Zynga Continues It's Market Slide Versus Closing Tonight
A PRESTON CLIVE FORECAST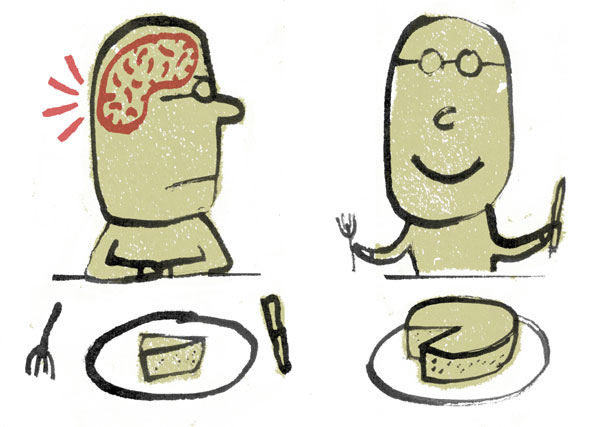 ENVY: Zynga, and King, respectively, sitting at the table looking at their earnings. (IMAGE: NYT)
By Preston Clive
Things are looking pretty grim for former mobile darling Zynga (NASDAQ:ZNGA) who rose to massive fame and a hunger for their IPO back in late '11 off the success of their Facebook based game Farmville, as well as subsequent mobile smash hits like Words With Friends, But earnings have continued to falter, and their Q4 earnings report fell short of analysts expectations. 
Followups to Farmville like FarmvilleII , ChefVille, CastleVille, and CityVille have performed beneath hopes, and the reinvention of their old classic Words With Friends was just a flop with their user base who saw no real reason for the relaunch with nary but a couple of lite whistles and bells as well as a mild redesign.
After Q4 earnings of $182 Million, falling short of the analysts projected number of $200 Mil, the company is forced into a mode of locking down cash and cutting off routes of hemorrhage. Thus, the company's office in Beijing China has been announced for closure with a swift terminations of each and every one of the 71 employees there. Rough stuff. 
From this move, the company is expected to preserve $7 million in annual cash. But, when one measures an annual cash tie down of $7 million against the extreme losses the company has weathered in a mere couple of years, one understands immediately that this form of mild austerity is far short of what is needed. In 2012 Zynga brought in $1.28 Billion. Compare that with the $694 Million of 2014 and you get a clear picture of what it is the company is up against before the eyes of its frustrated shareholders.
The company is praying for a massive success on the scale of the original Words or Farmville. To accomplish this the company is betting on a product release regimen of 6 to 10 mobile games each year, and hoping that as many as possible will constitute the kind of cash cow the company needs in the mobile space.
No doubt Zynga employees are casting envious eyes over at the folks at King Entertainment (KING). Completely contrary to the experience at Zynga, King announced Q4 earnings that topped analysts estimates, and their stock soared like a missle in trading on the news.
Take the closing number of Zynga today, and tell us: will we close lower than the decline today after the awful news of the Q4 report by next friday?
Lay it on me, traders!
2/13/2014***
Voting is over
Waiting for


the right answer