Moody's Or Fitch Will Downgrade Rusian Debt To Junk Bond Level in 30 Days
A PRESTON CLIVE FORECAST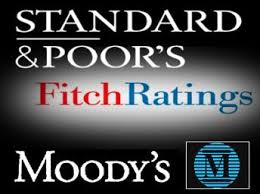 The news only gets more and more grim out of Moscow as the weeks of recession and oil price plunging--and East Ukranian conflict--and sanctions--hit hard the ruble and the Russian economy in general.
The move on behalf of Standard and Poor's, leading rating agency along with Moodys, to downgrade the rating of sovereign debt of Russia down to the level of the junk bond was widely anticipated and pre-reported, but it didn't make the blow any less discouraging when it materialized. The other two leading ratings organizations did not follow suit--yet--but the country's currency situation is in such a dire disposition that only drastic and activistic changes in policy seem likely to forestall the downgrade by S&P's industrial colleagues.
Fitch and Moody's have already downgraded Russian sovereign debt this month, though not quite down to junk bond levels. But with the outbreak of another round of lethal battles in the disputed territories of Ukraine, with 30 casualties, and no end in sight to a deep Russian recession hitting head on, only drastic action seems likely as a reasonable form of combat vs the coming downgrade.
Voting is over
Waiting for


the right answer